Energy in the Digital Age
Monitor, control and charge all your energy sources easily online.

Energy Meters
Our energy meters are the basis for a modern measuring infrastructure. Our hardware connects to the smart-me cloud via WiFi and provides real-time data. The energy measuring devices and their outputs can be controlled using automated cloud commands.

Cloud
The smart-me cloud is the central platform for your energy data. It offers a variety of tools for monitoring, billing and optimizing energy.

Interfaces
smart-me offers interfaces for third-party systems as well as integrations into existing company software. In this way we enable you to put together tailor-made solutions for your customers and maximum flexibility for you.
The energy data is transferred to the smart-me cloud via WLAN. You can then assign the meters to properties and apartments in the web portal. You can also define the tariffs for electricity, heat, water and gas yourself. You can also create virtual tariffs, for example a solar or battery tariff. In addition, it is possible to add other costs to the energy cost statement.
Our Meters and EV Charging Station
smart-me provides the technology to monitor, optimize and bill energy in real time. smart-me energy meters and the functions of the cloud platform form a comprehensive energy management system and create added value for you and your customers.

We only sell our products to partners. Attending the partner training makes you a smart-me partner. As a smart-me partner, you get hardware and software from a single source. You buy directly from us and can rely on the support of our support.
The smart-me technology allows energy to be precisely measured, controlled, optimized and billed. In addition to the app for end customers, smart-me offers various partners from the energy industry a comprehensive energy management platform, which makes it possible to offer innovative services and products for decentralized energy systems.

We have the energy management solution for prosumers. The smart-me energy meters deliver real-time data in order to optimally control, easily bill and optimize the energy.
Charging infrastructure in buildings can be easily managed with eCarUp, our solution for charging stations. Billing, solar power optimization and user management made easy for you and your customers.
Billing Energy – Multi-Energy
Bill water, heat, gas and charging electricity.
The M-Bus Gateway brings electricity, heat, water and gas meters into the cloud. Especially for new buildings, you can bill not only electricity, but also heat and water.
With Pico, you also integrate the charging current into your energy management system in real time. In addition, we also import the 15-minute values from various other EV charging stations.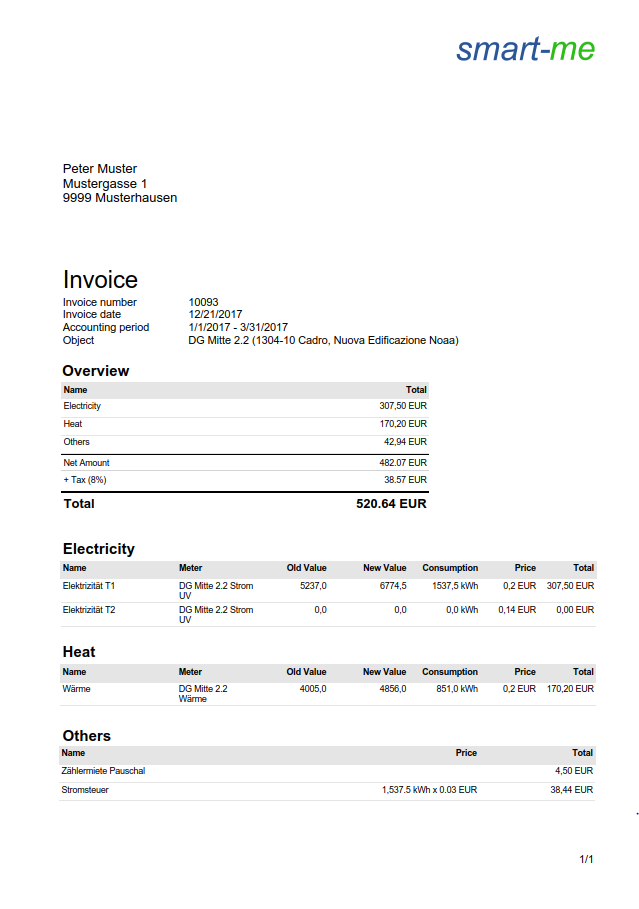 Our technology is used in thousands of commercial and appartment buildings
The meter with the lowest status in the account determines the overall status of the account.
Standard for API and M-Bus meters
1 measurement value per 15 minutes (API)
Reports: manual CSV export
1 measurement value per 15 minutes (API)
Advanced folders and meter administration
API: private use and control only
For all measuring points in the smart-me cloud
Advanced folder and meter administration
API: private and commercial use
You are welcome to send us your request using the form below.